from the variations dept.
nion's blog made me notice that many people don't know mmv (multiple move), which approximately works like this:

mmv '*.htm' #1.html
mmv '*.foo.*' #1.#2.bla

Additionally, mmv also can copy, link or even append files when called as mcp, mln or mad respectively with the appropriate command line options.
When I told nion in IRC on #debian.de about mmv, HE pointed me to the Perl script /usr/bin/rename, which is in Debian's perl package and therefore installed on nearly every Debian system by default. It moves files by applying perl subsitutions to file names:

rename 's/\.htm$/.html/' *.htm
rename 'y/A-Z/a-z/' *

Being curious, if the newly found tool is not only available in Debian, I looked on a SuSE 9.0 box and indeed, I also found there a /usr/bin/rename. But — surprise, surprise — it's not a Perl script but an ELF binary. And although it does similar things than mmv and Debian's rename, it is the simplest of the three commands:

rename .htm .html *.htm
rename foo foo00 foo?
rename foo foo0 foo??

Note to my self: Nice add-on for your command line efficiency talk.

from the frustration dept.
Since SuSE closes the security support two years after release and the recent KDE JavaShit remote code execution hole wasn't patched as fast as I would have expected it (the patch came out after the upgrade I'm writing about here) in the SuSE 9.0 which was installed on my 2.66 GHz AMD desktop at work (it started as in 2002 as a SuSE 7.3 on a 400 MHz box and has been upgraded since then to 8.0, 8.2 and 9.0 IIRC), I decided, it's now really time to upgrade to SuSE 10.0. (Although 10.1 will be out soon, I just don't want to wait for it.) And since my boss only wants SuSE boxes and neither Debian (which I would prefer) nor Gentoo (which a colleague prefers), I couldn't simply install Sarge on this box although I would have chosen that option if it would have been available.
Since my former SuSE experiences told me that this would mean a lot of trouble, I took notes from the beginning, once for the blog and once for my boss to show him, that most trouble doesn't come from me being a power user used to being allowed to touch any config file (like I am on Debian).
Preparations
So I begin with the preparations: Starting the 400 MHz Debian Woody box on my desktop (whose operating system is more than a year older than SuSE 9.0 and still has security support, yeah!) I usually need to build custom Debian packages for customers. There I could chat in IRC and took notes while trying to upgrade and get the whole thing working again.
When everything was ready, I put the SuSE DVD in — just to notice, that it's just a CD-ROM. So I put the SuSE 10.0 CD1 in the CD-ROM drive and typed "sudo shutdown -r now" in the shell. The box starts shutting down and tells me:
Please stand by while rebooting the system…
But it didn't reboot. I waited for several minutes, nothing happend. Well, seems as if the SuSE upgrade already starts as I expect it to end: Horrible.
Filed under:
Blogging is futile
»
English
»
Computer
»
SuSE
»
Tagged as:
Debian
,
Emacs
,
Epiphany
,
Fläsch
,
FocusFollowsMouse
,
fvwm
,
Galeon
,
Gentoo
,
GNOME
,
gq
,
JavaShit
,
KDE
,
lilo
,
Linux
,
mpg123
,
mpg321
,
mutt
,
Novell
,
Other Blogs
,
Plug'n'Pray
,
Quiz
,
RIP
,
Sarcasm
,
Sarge
,
SuSE
,
SuSE 10.0
,
SuSE 9.0
,
Ubuntu
,
Unicode
,
USB
,
Woody
,
WTF
,
YaST
,
You bastards!
18 comments
/
/
show without comments
/
/
write a comment
from the Good-Hardware dept.
Recently Eric asked on the LUG Vorarlberg mailing list about netbook experience. I wrote a lengthy reply summarizing my experiences with the ASUS EeePC 701. And I thought this is something I probably should share with more people than only one LUG:
I ordered an ASUS EeePC 701 (4G) with US keyboard layout at digitec in Spring 2008, got it approximately one month later and posted a first resumé after one month in my blog.
I'm still very happy with the EeePC 701, despite two commonly mentioned drawbacks (the small screen resolution and the small SSD – which I both don't see as real problems) and some other minor issues.
What matters
Very robust and compact case. And thanks to a small fan being the only moving part inside, the EeePC 701 is also very robust against mobile use.
Very pleasing always-in-my-daypack size (despite the 7" screen it's the typical 9" netbook size) and easily held with one hand.
Black. No glossy display. Neither clear varnish nor piano laquer. Short: No bath room tile. Textured surface, small scratches don't stick out and don't matter.
Despite all those neat features, it was fscking cheap at that time. And it was available without Windows.
Nice to have
There's power on the USB sockets even if the EeePC is turned off but the power supply is plugged in.
The speakers are impressingly good and loud for their size. (But my demands with regards to audio are probably not too high, so audiophiles shouldn't run to ebay because of this. ;-)
It has three external USB sockets.
What doesn't matter
The small 7" 800×480 screen: I like small fonts and do most things inside a terminal anyway. And even with 800×480, those terminals are still much bigger than 80×25 characters. Only some applications and webpages have no heart for small screens.
The small disk size: Quite a lot of programs fit on 4 GB of disk space. Additionally I use tmpfs a lot. And music and video files are either on a external 500 GB Western Digital 2.5" "My Passport" disk (which I need quite seldomly) or much more come via sshfs and IPv6 from my home server anyway. :-)
The small keyboard: I just don't have any problems with the size or layout (right shift right of the cursor up key, etc.) of the keyboard. Well, maybe except that any standard sized keyboard feels extremely large after having used the EeePC exclusively for some weeks. ;-)
The to 630 MHz underclocked 900 MHz Intel Celeron: It's enough for most of the things I do with the EeePC. Also the original 512 MB RAM are somehow ok, but for using tmpfs, but no swap space at all, 1 GB or 2 GB are surely the better choice.
A battery runtime of 2.5h to 3h is fine for me.
What's not so nice
The "n" key needs to be pressed slighty stronger than other keys, otherwise no "n" appears. So if one of my texts in average misses more "n" than other letters, I typed it on the EeePC. ;-)
Home, End, Page-Up, and Page-Down need the Fn key. This means that these keys can only be used with two hands (or one very big hand and I have quite small hands). This is usually no problem and you get used to it. It's just annoying if you hold the EeePC with one hand and try to type with the other.
What looks like a single mouse button is a seesaw and therefore two mouse buttons below one button. This makes it quite hard to press both at the same time, e.g. for emulating a middle mouse button press. It usually works in about half of all cases I tried it. My solution was to bind some key combination to emulate a middle mouse button in my window manager, ratpoison:

bind y ratclick 2

And that mouse button bar already fell off two times.
The battery reports only in 10% steps, and reporting in percentage instead of mAh is an ACPI standard violation because reporting in percentage is only allowed for non-rechargable batteries. It also doesn't report any charging and discharging rates. But in the meanwhile nearly all battery meter can cope with these hardware bugs. This was quite a problem in the early days.
Now, after approximately 1.5 years, the battery slowly fritzes: When charging there are often only seconds between 10% and 40%. Rigorously using up all power of the battery helped a little bit. Looks like some kind of memory effect althought the battery is labeled Li-Ion and not Ni-MH and Li-Ion batteries are said to have no memory effect.
The SD card reader only works fine if you once completed the setup of the original firmware or set the corresponding BIOS switch appropriately. No idea why.
Similar models
Technically, most of this also counts for the EeePC 900SD (not 901) which only differs in screen, resolution and disk size as well as CPU, but not on the the case. So same size, same robustness, same battery, same mainboard, bigger screen, resolution, disk and faster CPU. (The 901 has a different CPU, a different battery, and a different, glossy and partially chromed case.) See Wikipedia for the technical specifications of all EeePC models.
ASUS' only big FAILure
Stopping to sell most EeePCs with Linux and cowardly teaming up with Microsoft after having shown big courage to come out with a Linux only netbook. Well, you probably already know, but it's better without Windows…
So basically you no more get these really neat netbooks from ASUS anymore and you get nearly no netbooks with Linux from ASUS in the stores anymore. It's a shame.
Would I buy it again?
Sure.
Well, maybe I would also buy the 900SD, 900AX (replacing the harddisk with an SSD) or 702 (8G) instead of the 701, but basically they're very similar. See Wikipedia for the differences between these EeePC models. And of course I still prefer the versions without Windows.
But despite the low price, the EeePC 701 is surprisingly robust and still works as on the first day (ok, except battery, the mouse button bar and the "n" key ;-), so I recently bought a second power supply (only white ones were available *grrrr*) and ordered a bigger third party battery plus an adapter to load the battery directly from the (second) power supply without EeePC inbetween.
What desktop do I use on the EeePC?
None.
I use ratpoison as window manager, uxterm, urxvt, and yeahconsole as terminal emulators (running zsh with grml based .zshrc even as root's login shell :-), wicd-curses as network manager and xmobar (previously dzen2) with i3status as text-only panel. Installed editors are GNU Emacs 23, GNU Zile and nvi. (No vim. :-)
And of course a netbook wouldn't be a netbook if it wouldn't have a lot of network applications installed. For me the most important ones are: ssh, scp, autossh, sshfs, miredo, conkeror, git, hg, and rsync.

Filed under:
Blogging is futile
»
English
»
Computer
»
Hardware
»
Tagged as:
701
,
900A
,
900SD 900AX
,
901
,
ASUS
,
autossh
,
Badezimmerkachel
,
black
,
Conkeror
,
curses
,
Debian
,
EeePC
,
Emacs
,
FAIL
,
git
,
grml
,
Hardware
,
hg
,
i3status
,
IPv6
,
Lenny
,
Linux
,
miredo
,
nemo
,
Netbook
,
nvi
,
ratpoison
,
review
,
rsync
,
Sid
,
SSH
,
sshfs
,
teredo
,
tmpfs
,
urxvt
,
uxterm
,
wicd
,
Windows
,
xmobar
,
yeahconsole
,
zile
,
zsh
1 comment
/
/
show without comments
/
/
write a comment
from the embedded-in-a-tux dept.
It started harmless when Thomas asked on Linux User Group Switzerland mailing list if someone knows a tux-shaped alarm clock. But the topic of that thread quickly moved to two other things in tux shape: the Tux Droid, a device similar to the Nabaztag, but needs a Linux host with USB, and ACME Systems' Tux-Server, a ETRAX CRIS based Foxboard inside a tux-shaped case.
We found out that Telion, the Swiss importer for Foxboards, also imports ACME Systems' Tux Case — although the Tux Case is not mentioned on their website. Even better: They had a few old Tux Cases in stock which don't fit anymore on current Foxboards since the position of the power socket changed. (So only one hole in the case was missing.) And they wanted to get rid of them quite fast: They offered us the Tux Cases for 10 CHF (6€) each instead of 28 CHF each (17€) if we buy all of them. Of course we couldn't reject this offer and bought all five remaining cases.
Another part of the thread was about performance. Although ETRAX CRIS is used by its inventor AXIS in many of its products (they're famous for the Linux based web-cams) many were not sure if the board's performance would be sufficient for their ideas. Another disadvantage of the ETRAX CRIS architecture is that no mainstream Linux distribution supports it.
Another point was the Foxboard's price (169€, ca. 268 CHF). Bones just mentioned that an NSLU2 costs only about 100 CHF (60€).
Probably on IRC someone (probably Bones, too) wondered if it's possible to fit a NSLU2 into such a quite inexpensive Tux Case. We took Wikipedia's picture of the NSLU2 board, compared the size of the USB ports on that picture, compared them with real-life USB ports and found out the size of the board that way. And when I got my Tux-Case I noticed that the NSLU2 board really could fit into the Tux-Case.
Since I'm already building a bigger NAS-like home server, I have no use for another, much slower NAS. But since I more or less gave up the also ARM-based Thecus N4100, another ARM-based machine in my hardware collection wouldn't be bad.
So it didn't took long and the idea was born to build the NSLU2 board into a Tux-Case and let the website tux.ethz.ch run on it. (I inherited its administration from Beat and it's currently just a virtual host on one of our webservers.) Then it would be a server named Tux, serving Tuxes, looking like a Tux and running Tux' operating system Linux. :-)
I ordered an NSLU2 at Brack for 117.60 CHF (ca. 70€). Played around with the original firmware for a moment, but it's horrible from a security point of view: You can't even change the admin password (default: "admin") if no USB harddisk is attached. And no, a USB stick doesn't suffice. So I didn't wait long and tried to install Debian's "armel" (ARM, Little Endian) port on it. But the NSLU2 refused the "new firmware" with the error message "Upgrade: no enough free space.". While this is not in the Debian specific NSLU2 FAQ, it is mentioned in the general troubleshooting FAQ. As described in there, first upgrading to the most recent firmware version and then uploading the Debian installer worked fine.
After I had successfully installed Debian Lenny on a pqi 4 GB USB sticked into the NSLU2 and verified that everything is working fine, I opened the NSLU2 case and checked if it really would fit into a Tux Case.
It does, but very, very close. You'll have to drill some holes and the ethernet socket will stick out Tux's shoulder, but everything else should fit perfectly after a few mounting parts inside the Tux Case have been removed. As a proof of concept I laid the NSLU2 board on the Tux Case's back:
So later the LEDs will be in Tux' one shoulder while the network socket will be in his other shoulder. And the USB stick will be inside his paunch via a USB hub.

Filed under:
Blogging is futile
»
English
»
Computer
»
Hardware
»
Tagged as:
ACME Systems
,
ARM
,
armel
,
AXIS
,
Bones
,
Brack
,
case-modding
,
Debian
,
embedded
,
ETH Zürich
,
ETRAX CRIS
,
Flupp
,
Foxboard
,
Hardware
,
Lenny
,
Linksys
,
Linux
,
maximus
,
N4100
,
NAS
,
NSLU2
,
pqi
,
tbm
,
Telion
,
Thecus
,
Tux
,
Tux-Case
,
USB
,
Wikipedia
,
XScale
2 comments
/
/
show without comments
/
/
write a comment
from the GUI dept.
foosel tagged me, whatever that means. Perhaps it's the English word for "Stöckchen" (German for "small stick") of which I always wondered how the English blogging part of the blogosphere is calling that kind of coercing blog posts… ;-)
So these are the rules:
blog a list with your favorite desktop Linux software (as many or few you want)
add links to the software project's websites
post these rules
tag three other Linux using bloggers
Interestingly splitbrain, who started the thing just calls it "Meme", but to me memes are the same thing just without duress. ;-)
So you want to know about what Linux desktop software I like and use, hmm? Desktop means GUI, doesn't it? There are only a few GUI application I really use often since, as you probably know, X is primarily a terminal multiplexer and screen resolutions are compared by how many 80×25 xterms with fixed font you can get on one screen without overlapping. ;-)
But to be honest: Although I'm more the command line guy hacking cryptic lines into windows with small fonts, there are a few thing where I don't want to miss X and the GUI applications: For all things web – that means web browser, feed reader, etc. But then there is also a bunch of GUI software I use occasionally or as alternative tool to some text mode or command line software.
Web
X / Desktop Environment
Terminals
xterm – there is no better X terminal emulator than the original xterm. I found no other terminal which is so fast, has no problems with text-mode applications (aterms break aptitude's display), no problems with character set encodings, which can be embedded into other applications and which has a fully working classic Unix cut & paste.

aterm – When I need a fancy transparent terminal for showing a fancy desktop, I use the AfterStep Terminal Emulator aterm. In that case, the system tray, the window borders, the window's title bar and the terminal on my desktop have the same fancy tinted transparency.

yeahconsole – A wrapper around xterm which works like the pulldown console in quake. Good for the short shell usage inbetween. ;-)

The other similar pull down consoles I know (KDEish yakuake and GNOMEish tilda) had some issues with focus and keybindings while yeahconsole works just out of the box and showed no problems until now.
Audio and Video
XMMS and Audacious – If I want to play a single list of files of the same file format or single stream, I usually use the command line tools mpg123 and ogg123. But if I need anything more fancy or more flexible, I prefer the WinAMP clones. Formerly XMMS, nowadays Audacious. Both with some old skin which I use since more than a decade and which I initially used with WinAMP 2 on Windows 95.

mplayer – no fancy GUI, easily controllable with the keyboard, plays most video file formats I can remember. ;-)
Editing and Developing
GNU Emacs – I've been raised with GNU Emacs and Lisp at university, so I'm quite sticked to that. I usually only start one Emacs instance and connect to it using emacsclient. I also like TRAMP for editing remote files. but I don't need it that often.

On machines, where I don't want a full blown Emacs installation or under root I prefer GNU Emacs' little brother GNU Zile (Zile Is a Lossy Emacs), but that's text-mode and no GUI software.

OpenOffice.org – I think it's a really great software, but I use it quite seldom, usually only when I have to open some file in a Microsoft file format. For writing letters, articles, presentations and so I have LaTeX.

Gnumeric – My preferred spreadsheet application. Although for some purposes I use the OpenOffice.org spreadsheet, usually when Gnumeric has not all necessary features.
Graphics
xv – Yet another tool I use since more than a decade: No other image viewer is so fast and yet so easy to use with both keyboard and mouse. Open source, but unfortunately not (yet?) free software.

keyjnote – fancy PDF presenter with a lot of interactive features.

pdfcube – PDF presenter turning pages as a cube as compiz or Macs do with the desktop.
Chat
Other Tools
Games
Non-Desktop Applications
In case someone wonders about my mail client, Jabber client, IRC client, ICQ client, file manager, notes taking application, shell and versioning system – they're all command line or text-mode applications:
Who's next?
That's difficult:
maol would be interesting, but since a while he just blogs in Jeopardy style, so he would need pack all those programs into the subject of his blog post… No, not a good idea.
Venty! No, has no active blog anymore.
Dieter! No, no Linux user.
Hmmm, I think I have to look in a different corner of my circle of friends. Hmm. Ah, now I know:
nion – this will be really interesting. He even uses more strange software than I do. ;-)
alphascorpii – no idea what she prefers (except that it will be available as Debian package ;-)
And no, I don't expect posts as comprehensive as mine. :-)

Filed under:
Blogging is futile
»
English
»
Computer
»
X
»
Tagged as:
alphascorpii
,
aterm
,
Audacious
,
Azureus
,
Bitlbee
,
Conkeror
,
Debian Experimental
,
desktop
,
dmenu
,
dyfa
,
Emacs
,
fancyness
,
Firefox
,
FLWM
,
foosel
,
FVWM
,
GAIM
,
gnokii
,
GNOME
,
GNOME Network Manager
,
Gnumeric
,
GUI
,
Iceowl
,
ICQ
,
IRC
,
irssi
,
Jabber
,
Jeopardy
,
Kazehakase
,
keyjnote
,
KQEMU
,
KVM
,
Liferea
,
Linux
,
maol
,
Meme
,
Metacity
,
Midori
,
more than a decade
,
mpg123
,
mplayer
,
Netsurf
,
nion
,
ogg123
,
Open Source
,
OpenOffice.org
,
Opera
,
Other Blogs
,
pdfcube
,
Pidgin
,
Planet Debian
,
Planet Dokuwiki
,
QEMU
,
ratmenu
,
ratpoison
,
RSS GLX
,
Sawfish
,
splitbrain
,
Stöckchen
,
Sunbird
,
synergy
,
tilda
,
trayer
,
tvtwm
,
Twitter
,
Twitux
,
twm
,
unison
,
Venty
,
web browser
,
WinAMP
,
window manager
,
Windows 95
,
X
,
XKeyCaps
,
XMMS
,
xosview
,
XScreenSaver
,
xterm
,
xtrlock
,
xv
,
yakuake
,
yeahconsole
,
zile
1 comment
/
/
show without comments
/
/
write a comment
from the PoC-packaging-for-PoC-software dept.
Amora ("A MObile Remote Assistant") is a client/server suite which allows you to remote control an X desktop using a bluetooth enabled mobile phone. Initially there was only a Symbian client (running e.g. on nearly all Nokia E and N series phones), but J2ME clients are under developement, too.
Then there is Tablet Amora (aka Tamora), an Amora "proof of concept" client for the Maemo platform which runs on internet tablets like e.g. the linux based Nokia N770, N800, and N810. Since Maemo isn't that far away from what runs on the OpenMoko, getting Tamora working on the OpenMoko, too, suggested itself.
Maemo seems to use the deb package format, too, just slightly extended (e.g. by package icons), so it wasn't even that hard work to adapt the existing Maemo packaging to build, install and run on Debian, too.
So that's how Tamora looks on the OpenMoko: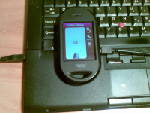 The packaging is still far away from Debian standards (throws tons of lintian warnings and the source package generation is b0rked), so yet there are no prebuilt debs available, but you can checkout amora-client from the Subversion repository and build the package from there:

 $ svn checkout http://amora.googlecode.com/svn/trunk/amora-client/maemo/ amora-client
 $ cd amora-client
 $ debuild -uc -us
 $ cd ..
 # dpkg -i amora-client_0.1-2maemo+openmoko_all.deb

For running and installing tamora you need packages from the pkg-fso APT repository on alioth. And to build it, you need the libedje-bin which is available from the pkg-fso repository for at least the armel architecture, or else from Debian experimental. You can add these repositories to your sources.list as follows:

 # PKG FSO repository
 deb     http://pkg-fso.alioth.debian.org/debian unstable main
 deb-src http://pkg-fso.alioth.debian.org/debian unstable main

 # Debian Experimental
 deb     http://ftp.ch.debian.org/debian experimental main
 deb-src http://ftp.ch.debian.org/debian experimental main

Since Tamora is yet only a "proof of concept" client, currently only the following remote functions are available:
pressing arrow key right/left
pressing F5 (fullscreen for the OpenOffice.org Presenter)
This should though at least suffice for a presentation with the OpenOffice.org Presenter.
To use Tamora to remote control your Debian laptop, you need a bluetooth dongle (or builtin bluetooth support) and amora-server installed as with the Symbian S60 (3rd Edition) Amora client, too.
Update, 23:51
libedje-bin seem not available in the pkg-fso repository for every architecture. You'll also find it in Debian experimental. Updated the sources.list section above appropriately. Thanks to Sebastian Montini for pointing out this problem.

Filed under:
Blogging is futile
»
English
»
Computer
»
Debian
»
Tagged as:
Amora
,
bluetooth
,
deb
,
Debian
,
experimental
,
FreeRunner
,
FSO
,
internet tablet
,
Linux
,
Maemo
,
N770
,
N800
,
N810
,
Nokia
,
OpenMoko
,
OpenOffice.org
,
packaging
,
PoC
,
Python
,
S60
,
Sid
,
Symbian
,
Tamora
0 comments
/
/
show without comments
/
/
write a comment
from the DIY dept.
I ogled with an OpenMoko FreeRunner since Harald König (of X.org fame)'s OpenMoko talk at LinuxDay.at last year. I knew that a team around Luca Capello and Joachim Breitner managed to get Debian running on it.
So when Venty told me that harzi wants to sell his nearly unused FreeRunner, I couldn't resist and bought it just a few days later.
I played around a little bit with the two distributions which were already installed, AFAIK the original 2007.2 and a version of Qtopia. Called Venty with the Qtopia to prove him that you indeed can make phone calls with this phone, but he wasn't pleased by the echo he heard of his own voice.
Since the included 512 MB microSD card surely is too small for a large Debian installation, I bought an additional 8 GB microSDHC card at digitec and then installed Debian on it.
The installation mostly went smooth: Partitioning threw a timeout error which didn't cause any further harm than aborting once. A bigger problem was that the hint that you need to update the U-Boot bootloader itself and not only its configuration (called environement) to get it booting from ext2 partitions. lindi (Timo Lindfors) on #openmoko-debian (on Freenode) was of great help spotting the small details hidden in continuous text.
After having Debian booting I installed all software I wanted to play around on a mobile phone including a bunch of web browsers. But since I ran into a bug which occurs after a non-deterministic amount of data is written to a big microSD card, I quickly got annoyed by the fact that I had to wait for the 8 GB fsck each time this bug was triggered.
So I converted the root file system to ext3 by adding a journal. But whatever I did (reinstalling U-Boot, the U-Boot environement, regenerating the U-Boot environement from scratch, trying to load it as ext2 again, etc.) I didn't get it to work anymore.
On #openmoko on Freenode, PaulFertser was trying to convince me that Qi is the better choice of a bootloader. Although its description didn't appeal to me at all, I understand that U-Boot seems a maintainability hell and that a more simplicistic approach can have its advantages. But there was feature listed on the Qi wiki page which made me try it: explicit ext3 support.
After creating the appropriate configuration files and symbolic links in /boot/boot and flashing Qi over the U-Boot in the NAND flash, Debian booted again without problems and with a journaling file system. :-)
In the meantime I found a setup which suites my tastes:
Matchbox stays my window manager, but I enabled the cursor which is very useful if you want to remote control you OpenMoko with synergy. I installed unclutter to automatically hide the cursor after a few seconds, so I see it when it moves, but it goes out of the way when not needed.
Like on my EeePC, I replaced trayer with lxpanel, because it also provides access to the Debian menu system.
The best compromise in rendering quality and resource usage is still NetSurf. So that's my browser on the OpenMoko.
Next step will be to move daily usage from root to an unprivileged user.
As soon as that's done, I'll try to get Tablet Amora aka Tamora working on the OpenMoko, too. Currently it only runs on Nokia's Linux based internet tablets (N800, N810, etc.).
Update, 17:54
To answer Joachim's question in the comment: I don't plan to use it as daily phone, but it may replace my old Nokia 6310i where currently my German mobile phone SIM card resides in. Use it mainly to have a cheap way to make phone calls inside Germany.

Filed under:
Blogging is futile
»
English
»
Computer
»
Hardware
»
Tagged as:
#lugs
,
amora
,
bootloader
,
cursor
,
Debian
,
Event
,
ext2
,
ext3
,
FreeRunner
,
fsck
,
GTA02
,
Harald König
,
harzi
,
IRC
,
Lenny
,
Linux
,
LinuxDay.at
,
LUGS
,
lxpanel
,
matchbox
,
microSD
,
microSDHC
,
NetSurf
,
Nokia
,
OpenMoko
,
Qi
,
Qtopia
,
synergy
,
tamora
,
U-Boot
,
unclutter
,
Ventilator
2 comments
/
/
show without comments
/
/
write a comment