from the written-via-GPRS-just-because-I-can dept.
A while ago I wanted to have internet over GPRS (either EDGE or UMTS) via my Nokia E51 working before I leave for the weekend. But whatever I tried, I always got an ERROR if I sent any AT command. Even ATZ and ATH resulted in errors. So started googling for all components: I found AT commands which are said to work with the Nokia E51, I found AT commands which are said to work with Swisscom GPRS and I found many sites describing how to setup a bluetooth modem.
But since the even those AT commands which should work with both, Swisscom GPRS and Nokia E51 didn't work at all, I noticed that all the Nokia E51 howtos were using the USB cable. So I tried that, too, and it worked immediately. It looks very strange to me that the set of AT commands is dependend on which way you connect to the phone. :-/
So here's my working PPP config:

hide-password
noauth
connect "/usr/sbin/chat -e -f /etc/chatscripts/swisscom-gprs"
/dev/ttyACM0
460800
defaultroute
crtscts
user "guest"
usepeerdns
noccp
bsdcomp 0,0
lcp-echo-failure 10000
lcp-echo-interval 1000
asyncmap 0
novj
nomagic

and the chat script (
/etc/chatscripts/swisscom-gprs
):

TIMEOUT 5
ABORT BUSY
ABORT 'NO CARRIER'
ABORT VOICE
ABORT 'NO DIALTONE'
ABORT 'NO ANSWER'
ABORT DELAYED
ABORT ERROR
'' \nAT
TIMEOUT 12
OK ATH
OK ATE1
OK 'AT+CGDCONT=1,"IP","gprs.swisscom.ch"'
OK ATD*99#
CONNECT ""

So I have now four levels of mobile computing available: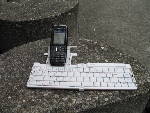 Nokia E51 with T9 and phone keyboard (for short texts)
Nokia E51 with Nokia SU-8W bluetooth keyboard (for longer texts and emergencies, see photo on the right)
ASUS EeePC (7", 630 MHz Celeron, 2GB RAM, 4GB SSD) with Nokia E51 as modem (complete computer, but still small, portable and nearly always with me)
Lenovo ThinkPad T61 (14" wide screen, 2.2 GHz Core2Duo, 4GB RAM, 160 GB SATA Disk) with Nokia E51 as modem (complete computer with power and disk space)
Should suffice in nearly all situations. ;-)

Filed under:
Blogging is futile
»
English
»
Computer
»
Hardware
»
Debian%20and%20GPRS%20with%20the%20Nokia%20E51
Tagged as:
AT
,
Bluetooth
,
c-crosser
,
chat script
,
Debian
,
EDGE
,
EeePC
,
Etch
,
GPRS
,
Lenny
,
nemo
,
Nokia E51
,
Nokia SU-8W
,
Swisscom
,
T61
,
ThinkPad
,
UMTS
,
USB
,
Zürich
0 comments
/
/
write a comment
/
/
comments off
Spam Protection: To post a comment, you'll have to answer the following question: What is 42 minus 19?