from the PoC-packaging-for-PoC-software dept.
Amora ("A MObile Remote Assistant") is a client/server suite which allows you to remote control an X desktop using a bluetooth enabled mobile phone. Initially there was only a Symbian client (running e.g. on nearly all Nokia E and N series phones), but J2ME clients are under developement, too.
Then there is Tablet Amora (aka Tamora), an Amora "proof of concept" client for the Maemo platform which runs on internet tablets like e.g. the linux based Nokia N770, N800, and N810. Since Maemo isn't that far away from what runs on the OpenMoko, getting Tamora working on the OpenMoko, too, suggested itself.
Maemo seems to use the deb package format, too, just slightly extended (e.g. by package icons), so it wasn't even that hard work to adapt the existing Maemo packaging to build, install and run on Debian, too.
So that's how Tamora looks on the OpenMoko: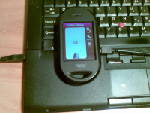 The packaging is still far away from Debian standards (throws tons of lintian warnings and the source package generation is b0rked), so yet there are no prebuilt debs available, but you can checkout amora-client from the Subversion repository and build the package from there:

 $ svn checkout http://amora.googlecode.com/svn/trunk/amora-client/maemo/ amora-client
 $ cd amora-client
 $ debuild -uc -us
 $ cd ..
 # dpkg -i amora-client_0.1-2maemo+openmoko_all.deb

For running and installing tamora you need packages from the pkg-fso APT repository on alioth. And to build it, you need the libedje-bin which is available from the pkg-fso repository for at least the armel architecture, or else from Debian experimental. You can add these repositories to your sources.list as follows:

 # PKG FSO repository
 deb     http://pkg-fso.alioth.debian.org/debian unstable main
 deb-src http://pkg-fso.alioth.debian.org/debian unstable main

 # Debian Experimental
 deb     http://ftp.ch.debian.org/debian experimental main
 deb-src http://ftp.ch.debian.org/debian experimental main

Since Tamora is yet only a "proof of concept" client, currently only the following remote functions are available:
pressing arrow key right/left
pressing F5 (fullscreen for the OpenOffice.org Presenter)
This should though at least suffice for a presentation with the OpenOffice.org Presenter.
To use Tamora to remote control your Debian laptop, you need a bluetooth dongle (or builtin bluetooth support) and amora-server installed as with the Symbian S60 (3rd Edition) Amora client, too.
Update, 23:51
libedje-bin seem not available in the pkg-fso repository for every architecture. You'll also find it in Debian experimental. Updated the sources.list section above appropriately. Thanks to Sebastian Montini for pointing out this problem.

Filed under:
Blogging is futile
»
English
»
Computer
»
Debian
»
Tablet%20Amora%20runs%20on%20the%20OpenMoko%20FreeRunner
Tagged as:
Amora
,
bluetooth
,
deb
,
Debian
,
experimental
,
FreeRunner
,
FSO
,
internet tablet
,
Linux
,
Maemo
,
N770
,
N800
,
N810
,
Nokia
,
OpenMoko
,
OpenOffice.org
,
packaging
,
PoC
,
Python
,
S60
,
Sid
,
Symbian
,
Tamora
0 comments
/
/
write a comment
/
/
comments off
Spam Protection: To post a comment, you'll have to answer the following question: What is 42 minus 19?