Aus der Hirnrissige-Tarife-und-Paragraphenreiter Abteilung
Auf Anregung von @RailService ein offener Brief an die SBB zum Thema Velotransport als Handgepäck (abgesendet via SBB Kontaktformular):
Für normale, zerlegte Velos kann ich ja verstehen, dass eine Verpackung erwünscht ist, da es sich dann ja um Einzelteile (meist zwei Räder und der Rest) handelt.

Dass aber Faltvelos nur dann kostenlos sind, wenn sie verpackt sind, ist eine Zumutung, da sie dann meistens noch grösser, unhandlicher und – aufgrunddessen, dass die meisten Verpackungen inklusive der SBB TranZBag schwarz sind – auch noch leichter zu übersehen sind. Und auch ansonsten macht es weder für das SBB-Personal noch Reisende einen Unterschied, ob das Faltvelo verpackt ist oder nicht. Es ist ein Gepäckstück wie jedes andere, sowohl in der Grösse als auch im Gewicht.

Die SBB (und der ZVV am besten gleich auch noch) möge sich ein Vorbild an den Verkehrsunternehmen nehmen, die für Faltvelos eine nachvollziehbare, eindeutige, und wesentlich sinnvollere Tarifregelung haben, nämlich anhand der Reifengrösse: Faltvelos (gefaltet, aber ohne unsinnigen Verpackungszwang) bis 20" Reifengrösse werden als Handgepäck betrachtet, darüber hinaus als Velo.
Der ZVV hat momentan sogar noch wesentlich ungenauere Formulierungen in ihren Beförderungsbedingungen für Velos (Hervorhebung durch mich):
Kleinkindervelos und Kindertrottinetts werden gratis befördert. Übrige leicht tragbare Fahrgeräte, auch demontierte und verpackte Fahrräder, werden gratis befördert, wenn sie über oder unter dem Sitz der Benützerin oder des Benützers untergebracht werden können.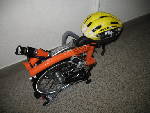 Früher waren – wenn ich mich recht entsinne – in dem hervorhobenen Teil Faltvelos sogar noch explizit erwähnt. Jetzt ist es Auslegungssache, was ein "leicht tragbares Fahrgerät" ist. Ich finde jedenfalls, das Brompton ist sehr leicht tragbar, ein Fahrgerät ist es allemal. Ein ZVV-Kontrolleur wollte das neulich jedoch nicht wissen (hat sich aber auch nicht auf eine Diskussion eingelassen und ist ausgestiegen).

Filed under:
Blogging is futile
»
Deutsch
»
Reisen
»
Offener%20Brief%20an%20die%20SBB:%20Tarifregelung%20Faltvelos
Tagged as:
@RailService
,
Brompton
,
Faltrad
,
Faltvelo
,
Offener Brief
,
Rant
,
SBB
,
Schweiz
,
TranZBag
,
Twitter
,
ZVV
,
ÖPNV
,
ÖV
4 comments
/
/
write a comment
/
/
comments off
Spam Protection: To post a comment, you'll have to answer the following question: What is 42 minus 19?