from the light-at-the-end-of-the-tunnel dept.
… this is "Do no evil"—urchin.js isn't.
For luck, urchin.js and friends can be easily blocked using e.g. Firefox plugins like AdBlocker or NoScript, or with filtering proxies like Privoxy. And a line like
address=/google-analytics.com/0.0.0.0
in the dnsmasq.conf of your home router works like a charm, too.

SCNR, via Symlink


Filed under:

Blogging is futile

»

English

»

Computer

»

Web

»

Tagged as:

AdBlocker

,

Cookies

,

Cuil

,

data squid

,

dnsmasq

,

Filter

,

Firefox

,

Google

,

IBM

,

NoScript

,

Privacy

,

Privoxy

,

Proxy

,

SCNR

,

Search Engine

,

Symlink-Artikel

,

Tracking 0 comments

/

/

show without comments

/

/

write a comment
from the *WANT* dept.
About a year ago, I bought a Norhtec MicroClient Jr., a complete 200 MHz MMX-compatible SoC ("Vortex86") PC so small that it fits into your hand or onto VESA mountings. Althought thought as thin client, the machine has 128 MB RAM and runs Debian from either netboot, USB stick, CF card or 2.5" harddisk without problems and not even that slow.
Later last year, we needed more MicroClient Jrs. at work and since the MicroClient JrSX had a 300 MHz 486SX-compatible SoC processor ("Vortex86SX") from MSTi and 128 MB DDR RAM instead of SD RAM, we expected them at least in the same performance range and bought a few for ETH and I also bought one for myself. Well, they were about three times slower, since the FPU is missing, not all programs from Debian Etch work fine, e.g. X doesn't work without patching and recompiling (with Sid, X works, but not the kernel anymore – Update, 26-Jul-2008: See #454776 for a solution for this problem)…
BTW: I had both machines with me at FOSDEM '08 at the Debian booth and the MMX-compatible machine also at Chemnitzer Linux-Tage (CLT) at the Symlink booth and in Kurt Gramlich's talk about ecological computers. So if you saw them there, just imagine the same case, with a twice to three times faster CPU and four times the amount of RAM, but with roughly the same carbon foot-print!
For our thin client purposes at work we now use ALIX boards from PC Engines (Mini-ITX format) with 500 MHz AMD Geode processors. They're much faster than the MicroClient Jr. and need even less power.
Today, while surfing around on some Mini-ITX shops, I found some computer in obviously MicroClient Jr. case, but with 500 MHz VIA Eden processor and 512 MB of RAM. I first couldn't believe it. They are selling it as eTC-2500. Since eTC-2300 was one of the brandings of the MicroClient Jr. which is called eBox-2300 officially by the manufacturer DM&P, I searched for eBox-2500, but didn't find anything useful. Then I looked at the manufacturer's product page at CompactPC.com.tw and found the eBox-4300 — so it's really true, they managed to fit a board with 500 MHz VIA processor and half a Gig of RAM into the already fscking small space inside the MicroClient Jr. case, and even without needing more power: Still 15W from the power adaptor. Next stop was Norhtec's Website. And yes, they also have a new MicroClient product: The MicroClient Sr.. I really need to have one of those for my MicroClient collection! ;-)

Filed under:
Blogging is futile
»
English
»
Computer
»
Hardware
»
Tagged as:
486SX
,
ALIX
,
c1
,
c2
,
CLT
,
Debian
,
eBox-2300
,
eBox-4300
,
ETH Zürich
,
Events
,
FOSDEM
,
FOSDEM2008
,
Kurt Gramlich
,
low end
,
MicroClient
,
MicroClient Jr.
,
MicroClient JrSX
,
MicroClient Sr.
,
Mini-ITX
,
MSTi
,
must have
,
Norhtec
,
PC Engines
,
Pentium MMX
,
SiS
,
Symlink
,
VESA-PC
,
VIA Eden
,
Vortex86
,
Vortex86SX
3 comments
/
/
show without comments
/
/
write a comment
from the written-via-GPRS-just-because-I-can dept.
A while ago I wanted to have internet over GPRS (either EDGE or UMTS) via my Nokia E51 working before I leave for the weekend. But whatever I tried, I always got an ERROR if I sent any AT command. Even ATZ and ATH resulted in errors. So started googling for all components: I found AT commands which are said to work with the Nokia E51, I found AT commands which are said to work with Swisscom GPRS and I found many sites describing how to setup a bluetooth modem.
But since the even those AT commands which should work with both, Swisscom GPRS and Nokia E51 didn't work at all, I noticed that all the Nokia E51 howtos were using the USB cable. So I tried that, too, and it worked immediately. It looks very strange to me that the set of AT commands is dependend on which way you connect to the phone. :-/
So here's my working PPP config:

hide-password
noauth
connect "/usr/sbin/chat -e -f /etc/chatscripts/swisscom-gprs"
/dev/ttyACM0
460800
defaultroute
crtscts
user "guest"
usepeerdns
noccp
bsdcomp 0,0
lcp-echo-failure 10000
lcp-echo-interval 1000
asyncmap 0
novj
nomagic

and the chat script (
/etc/chatscripts/swisscom-gprs
):

TIMEOUT 5
ABORT BUSY
ABORT 'NO CARRIER'
ABORT VOICE
ABORT 'NO DIALTONE'
ABORT 'NO ANSWER'
ABORT DELAYED
ABORT ERROR
'' \nAT
TIMEOUT 12
OK ATH
OK ATE1
OK 'AT+CGDCONT=1,"IP","gprs.swisscom.ch"'
OK ATD*99#
CONNECT ""

So I have now four levels of mobile computing available: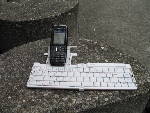 Nokia E51 with T9 and phone keyboard (for short texts)
Nokia E51 with Nokia SU-8W bluetooth keyboard (for longer texts and emergencies, see photo on the right)
ASUS EeePC (7", 630 MHz Celeron, 2GB RAM, 4GB SSD) with Nokia E51 as modem (complete computer, but still small, portable and nearly always with me)
Lenovo ThinkPad T61 (14" wide screen, 2.2 GHz Core2Duo, 4GB RAM, 160 GB SATA Disk) with Nokia E51 as modem (complete computer with power and disk space)
Should suffice in nearly all situations. ;-)

Filed under:
Blogging is futile
»
English
»
Computer
»
Hardware
»
Tagged as:
AT
,
Bluetooth
,
c-crosser
,
chat script
,
Debian
,
EDGE
,
EeePC
,
Etch
,
GPRS
,
Lenny
,
nemo
,
Nokia E51
,
Nokia SU-8W
,
Swisscom
,
T61
,
ThinkPad
,
UMTS
,
USB
,
Zürich
0 comments
/
/
show without comments
/
/
write a comment